"Far away there in the sunshine are my highest aspirations." ☀️ ~Louisa May Alcott
An update on projects, the 2-minute rule, and tips on starting as a creative entrepreneur (#312)
"Far away there in the sunshine are my highest aspirations. I may not reach them, but I can look up and see their beauty, believe in them, and try to follow where they lead."
~Louisa May Alcott
This week we had sun again! ☀️ Seriously, it had been ten days or something of COLD, GRAY, DREARY DAYS. Chicagoans were struggling. 🥺
That all changed on Monday, and I sat by a sunny window for 2 hours to soak it in:
The rest of the week, I was able to make some progress on the projects I mentioned last time:
Side hustles vs. full-time
I was Team Side Hustle in a debate on this topic earlier this week. And we talked about how as side hustlers, we can often feel pressure to take our businesses full-time. But that's not the right fit for everyone.
Some of us like solid income and benefits. Some of us like having the best of both worlds. 🙋🏾‍♀️ Some of us even like our jobs.
Ultimately, there are so many different ways to be an entrepreneur. And I'd love to help normalize businesses of all shapes and sizes.
I'll share a link once the episode goes live.
Adulting Kit
OMG, there is SO MUCH goodness in the Adulting Kit that I think the only way forward is to focus on one section a month (or every other!). It covers finances, health, death, relationships, travel, cars, and more.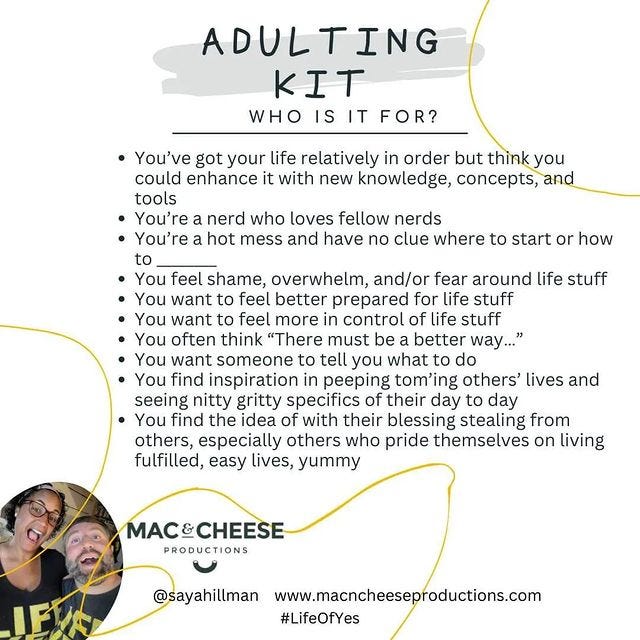 Specifically looking forward to the following:
The kit is getting rave reviews, and Saya is increasing the price on February 1st. So if any of the above sounds like something you could use this year, grab it now.
Client newsletter launch
My client is launching her newsletter next week (hi Connie! 👋🏾). FUNdraising Geek, a newsletter for charity fundraisers, will feature fundraising and social media tips. The first issue comes out next week.
ℹ️ Can I help you launch your newsletter? Be sure to grab my Curated Newsletter course or work with me 1:1 during a Side Hustle Day!
Side Hustler Interview Series
Side Hustle Convos starts next week! It will feature written interviews with folks doing the side hustle/day job dance.
I believe this series will live on my blog, at least to start, but I'll keep you posted about new interviews in this newsletter. Excited to kick this off, as I've wanted to do this for a long time!
—
THINGS. ARE. HAPPENING. 👏🏾
Let me know which of the above you are most excited about!
On to the picks!
---
Note: This email may contain affiliate links. If you click through my link and make a purchase, I may receive "thank you money" at no additional cost to you. I only recommend products that I use and love.  
---
#loves 😍
---
#reads
How to Stop Procrastinating by Using the "2-Minute Rule."
"If you show up at the gym five days in a row—even if it's just for two minutes—you are casting votes for your new identity. You're not worried about getting in shape. You're focused on becoming the type of person who doesn't miss workouts. You're taking the smallest action that confirms the type of person you want to be."
This article reminds me so much of the idea of baby steps. Do you have a goal that you want to achieve? Then, how can you break it down into the smallest task you can do? It's not so much about the giant leaps. It's about showing up and the momentum/confidence you get from that consistent action.
—
---
#icymi
---
#classifieds 🗞
---
#lifevibes
---
#supporters ☕️
Thank you, Ayana, Krista, Jessica, Annetta, Constance, Tunde, Jen, Michelle, Emile, Bex, Kim, Angela G., Lauren B., Chelsea, Amy, Ricky, Kirsten, Vin, Julie, Nicole, Humza, Greg, Kristin, Kirstyn, Jess, Cheryl, Krysta, Adrena, Vidya, Kristyn, Danielle, Keryn, Terry, Vanessa, Meredith, Lauren, Meg, Maria J., Chivon, Kim, Luciano, Colie, Chasity, Laurie, Latienda, Collette, Anne, Kristen, Liz, Katherine, Monale, Betsy, Melissa, Lindsay, Jennifer, Kayla, Madison, Rae, Stephanie, Christine R., Christine M., Frances, Hannah, Chris, Brandy, Mea, Kristian, Maria K. Avery, Adam, Barbara, Shenee, Desiree, Lisa, Kandice, L'Oreal, and LaVerne for being #jesspicks supporters!! ❤️
Want to help support this newsletter? Buy me a coffee.